Über Anja Zeidler
Hi everyone
First of all: This is my Official Webpage – welcome!
Who am I? People say that I'm not a typical model, and I love that! I set myself apart because I'm inked, not super-skinny and nor a simple coat-tree like most of these girls are. I have personality and my own head. I don't give them permission to do with me what they want.
In my opinion, all these girls who live just on salads & fruits are insane. I love sports and I eat what's important to give me 100% during my workouts. I think there's nothing sexier than a toned, healthy and feminine body. All it needs is willpower and I have lots of it. I use it for sports and for modeling.
I was born on 27th of July in 1993, only 19 years old and already have the chance to model for several brands. See for yourself right here on my page, on which I try to give daily news about my exciting world.
Thank you for visiting and do not hesitate to get in touch with me by ''contact''.
– Anja Zeidler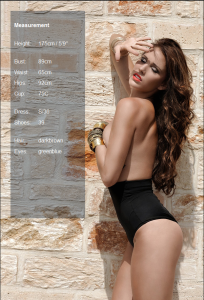 Measurement
Height:
175cm / 5'9″
Bust:
89cm
Waist:
65cm
Hips:
92cm
Cup:
75C
Dress:
S/36
Shoes:
39
Hair:
darkbrown
Eyes:
greenblue